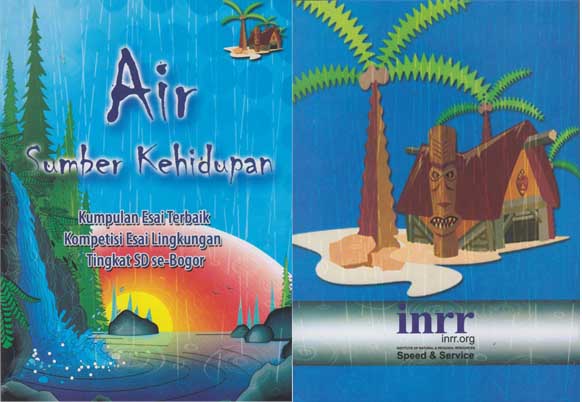 AIR SUMBER KEHIDUPAN"
INRR (Institute of Natural and Regional Resources) telah menyelanggarakan sebuah kompetensi esai tentang Lingkungan Hidup SD se Kota Bogor dan Sekitarnya pada Januari 2008. Kami merasa bangga menerima berbagai tulisan "Air Sumber Kehidupan" dan murid-murid yang begitu antusias menyampaikan isi pikiran tentang penyelamatan lingkungan, tertutama lingkungan sekitar Bogor.
Dari sekian banyak peserta lomba, terpilih 20 penulis terbaik. Sebagai bentu penghargaan terhadap mereka , maka karya telah dibukukan dalam buku ini. Semoga buku ini bermanfaat dan dapat menjadi gerbang penyadaran kepada anak-anak dan kita semua terhadap arti pentingnya melestarikan lingkungan. Mari terus berkontribusi untuk pelestarian lingkungan kita.
Kumpulan esai terbaik,
Kompetisi esai Lingkungan, Tingkat SD se-Bogor